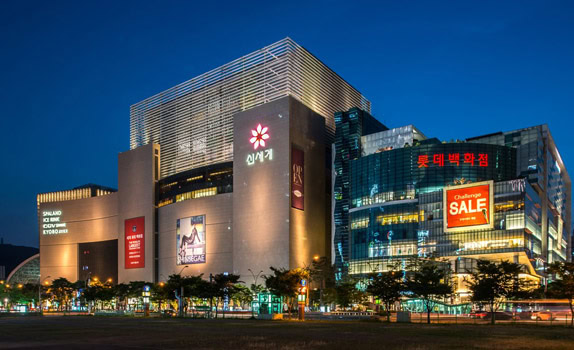 The Shinsegae Centum City Department Store is registered in the Guinness World Records as the largest shopping complex in the world. The department store has a countless number of items all under one roof. Visitors can also enjoy numerous entertainment options in the complex. Shinsegae, which opened the first department store in Korea, reflects decades of retail experience in this flagship location. Some of the various entertainment facilities available include a spa and an ice rink.
Globally renowned experts such as Italian architect Claudio Silvestrin and an American architecture and design firm Callison completed Centum City under the concept of a "golden sea". The department store has emerged as a defining landmark in Busan.
Popular nearby, compatible sites for a private tour in Gyeongsangnamdo:
Spa Land Centum City
BEXCO
Busan Cinema center
Address
35, Centum nam-daero, Haeundae-gu, Busan
부산광역시 해운대구 센텀남대로 35 (우동)
Operating Hours 
Regular hours 10:30-20:00 / Extended hours 10:30-21:00 / Restaurants 11:00-21:30 (Last order at 21:00)
* Hours are subject to change and vary by stores.