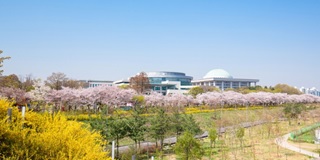 Description
Yeouido is home to the National Assembly and is Seoul's financial district. However, Yeouido is much more well known for the annual Yeouido Cherry Blossom Festival.
Take a stroll along Yunjung-ro (Yunjung Road), which runs along the bank of the Han River and take in the spectacular beauty of over 1,500 cherry blossom trees.
Although cherry blossoms are the main attraction, you will be able to see other beautiful Spring flowers, such as, forsythias, azaleas, and rhododendrons.
Festival Dates
The dates vary year by year since the timing of the cherry blossoms is dependent on the weather. Traditionally, the festival is held for 7 days during the first 2 weeks of April.

Hours
There are a variety of performances, programs, exhibitions, and vendors available at the festival from 9:00am and 8:00pm.
Yujung-ro (Yunjung Road) is open 24 hours a day.
Map