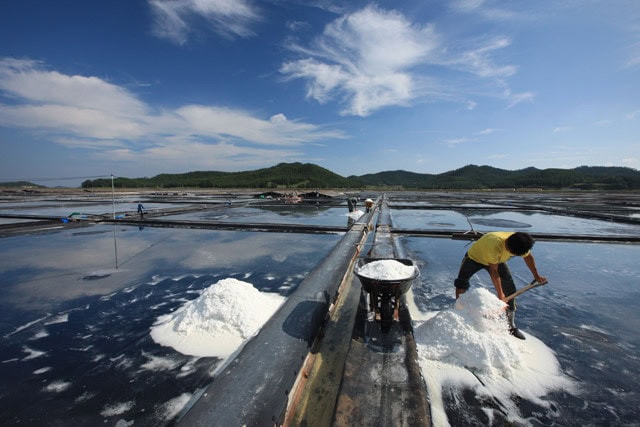 Taepyeong Salt Farm, located in Jeungdo Island of Jeollanm-do, is the largest sun-dried salt producer in Korea. Recently, a wooden trail has been installed around the farm. Visitors can walk on the trail to learn about salt production, see the 'salt plants' that grow in the mud flat, and participate in various hands-on experience activities. Taepyeong Salt Farm, registered as a Modern Cultural Heritage in 1997, and Sinan mudflat have been designated as Biosphere Reserves by the UNESCO.
Popular nearby, compatible sites for a private tour in Jeollanamdo:
Salt Gallery
Jeungdo Island
Address
1930, Jeungdong-ri, Jeungdo-myeon, Sinan-gun, Jeollanam-do
전남 신안군 증도면 증동리 1930
Operating Hours 
11:00, 15:00 (2 times a day)
Closed 
Winter season (November-March)
Operating Hours 
11:00, 15:00 (2 times a day)
Facility Utilization Fees 
Adults: 10,000 won
Children: 9,000 won
Senior (ages over 65), people with disabilities, preschool students – 8,000 won
※ Free salt ice cream served.
※ 1kg of free salt offered.
※ Information on this page is subject to change. Please make an inquiry before visiting.