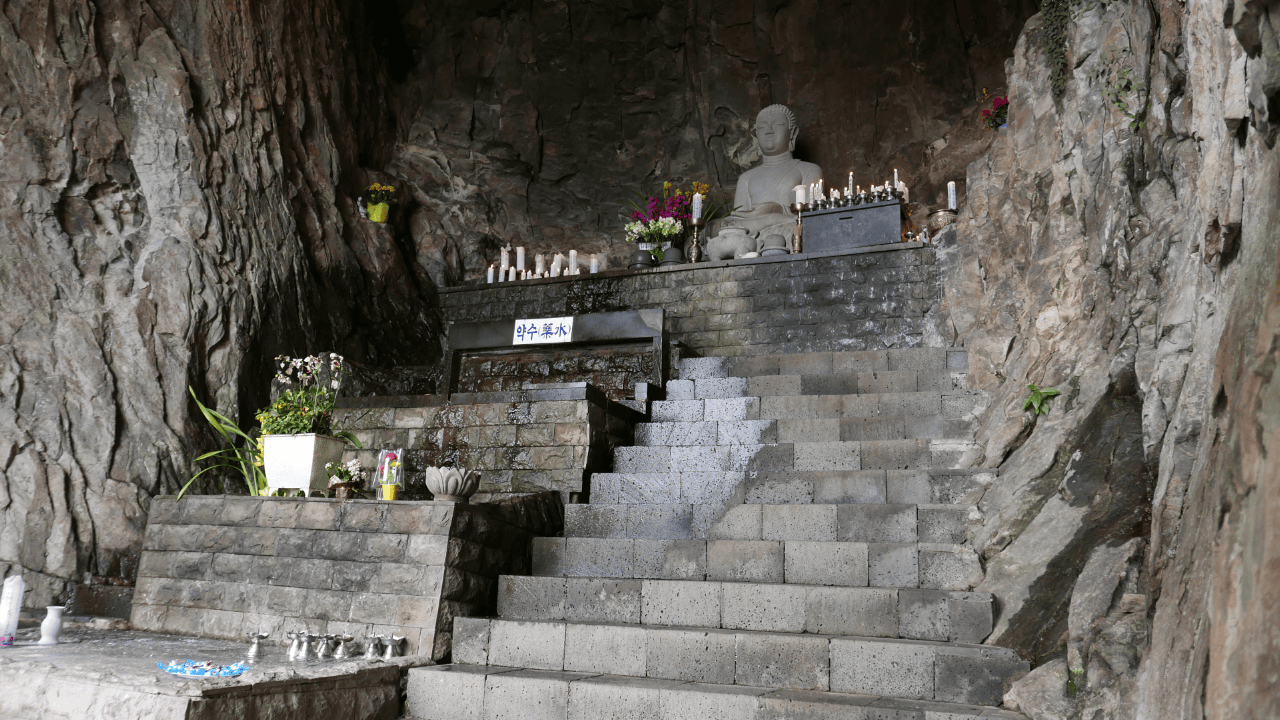 It is said that the peak of Hallasan Mountain where Baekrokho Lake now exists was taken off and thrown away, which then became Sanbangsan Mountain. The myth describes how unlike other mountains on Jejudo Island, this mountain does not have a crater. The 5m-high rock cave at the cliff on the southwest side of the mountain was originally called Sanbanggul Cave, but it is called a temple now because it possesses a Buddhist statue.
This is where monk Hye-Il (964~1053) had lived during the Goryeo Dynasty (918~1392).
Inside the cave, you can see Marado Island and the Dragon Head Coast. You can also see small ponds being made by the water drops that fall from the ceiling all through the year. The plant zone on a cliff of Sanbangsan Mountain is also designated as a natural monument. It is the only place on Jejudo Island where island boxwoods grow. On the Dragon Head Coast is the Hamel Memorial Monument.
Popular nearby, compatible sites for a private tour in Jeju:
Sanbangsan Mountain
Yongmeori Beach
Hwasun Golden Sand Beach
Address
218-13, Sanbang-ro, Seogwipo-si, Jeju-do
제주특별자치도 서귀포시 안덕면 산방로 218-13 (안덕면)
Operating Hours 
sunrise-sunset
Closed 
N/A (open all year round)
Admission Fees 
Adults – Individuals 2,500 won / Groups (10 or more people) 2,000 won
Teenagers & Children – Individuals 1,500 won / Groups 1,000 won
* Sanbanggul Cave, Hamel Memorial, and Dragon Head Coast are included in one admission ticket because they are in the same tourism district.