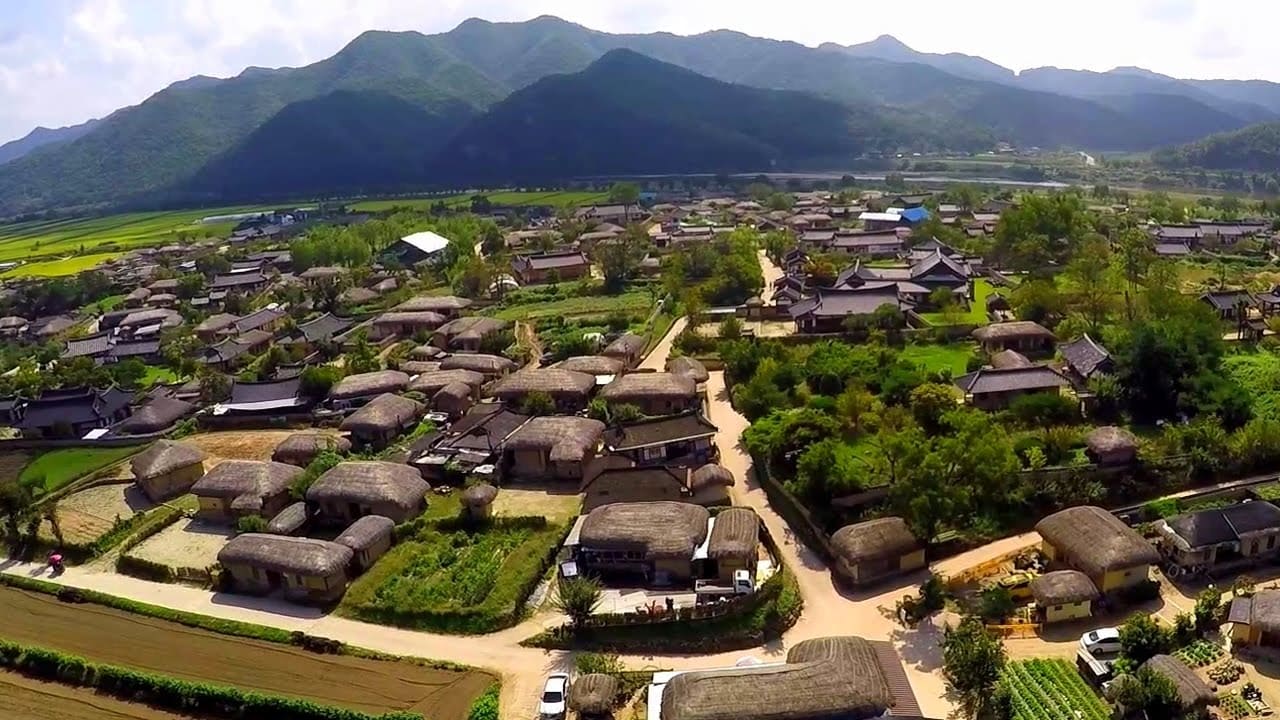 Hahoe Village is home to descendants of the Ryu clan of Pungsan and is well-known for its traditional houses. Birthplace of renowned scholars of the Joseon Period such as Gyeomam Ryu Un-ryong and Seoae Ryu Seong-ryong, the village became even more famous after Queen Elizabeth of England visited on April 21, 1999.
Hahoe Village (translating to "Village Enveloped by Water") gets its name from Nakdong River, which flows around the town's perimeter. The village is located at the foothills of Hwasan Mountain, an offshoot of Taebaek Mountain that rises up to the east. The center of the village is populated by large tile-roofed houses belonging to the Ryu clan, adding their own unique charm to the surrounding thatched roofs.
Hahoe Village boasts exquisite scenic sights: the elegant Nakdong River flowing around the village, the magnificent Buyongdae Cliff, endlessly unfolding sandy beaches, and lush, ancient pine trees. Visitors can take the boat to Buyongdae Cliff for a panoramic view of the village.
In addition to breathtaking scenery, Hahoe Village offers delectable local delicacies. Try the Andong Soju (distilled alcoholic beverage), Heotjesabap (a type of Bibimbap eaten by the nobles), Andong Gangodeungeo (salted mackerel), and Andong Guksu (a kind of noodle dish).
Nearby attractions include Bongjeongsa Temple (built during the Silla Period), Gosan Seowon (Confucian Academy), Gwiraejeong, Gyemyeongsan Mountain Recreational Forest, Hakgasan Mountain Recreational Forest, and Waryongsan Mountain.
Hahoe Village, along with Yangdong Village in Gyeongju, was added to the UNESCO World Heritage List under the category of "Historic Villages in Korea" on July 31, 2010.
Andong Mask Dance Festival is held every autumn.
Popular nearby, compatible sites for a private tour in Gyeongsangbukdo:
Hahoe Mask Village
Buyongdae Cliff
Andong Hahoe Doenjang Village
Address
40, Jongga-gil, Pungcheon-myeon, Andong-si, Gyeongsangbuk-do
경상북도 안동시 풍천면 하회종가길 40
Operating Hours 
Summer season: 09:00-19:00
Winter season: 09:00-18:00
Closed 
N/A (Open all year round)
Admission Fees 
[Individuals]
Adults 3,000 won / Teenagers 1,500 won / Children 1,000 won
[Groups]
Adults 2,500 won / Teenager 1,200 won / Children 900 won
* Adults (ages 13-18)
* Free admission: Seniors (ages 65 or more)